Community People Helping Community People

Western Lane Community Foundation

Each year, Western Lane Community Foundation awards grants to local non-profit organizations for projects and programs in its target area of western Lane County. Grants are awarded in the areas of education, medicine and science, the arts and social and civic services. 

The amount available for distribution each year varies based on the performance of the invested portfolio of discretionary funds. Grant requests and awards vary greatly in amount, with a range from $100.00 to around $5,000, depending on the nature of the grant project and funds available for distribution. 

WLCF has revised the the grant application for the 2022 grant cycle. Applications will be accepted by WLCF between October 15, 2021 and January 15, 2022.  Before completing your application, please review the revised Grant Guidelines which can be accessed
 here
. 
Submit to Western Lane Community Foundation, P.O. Box 1589 Florence, Oregon 97439 or email to
[email protected]
in pdf format. Applications must be postmarked or received no later than close of business January 15, 2022. 
All grant applications will be reviewed by the Board of Directors and each applicant will be contacted by a board member for an interview regarding the grant request. Grants will be selected in February and awarded in late March. 

Successful grant recipients are required to submit a grant report by September 30, 2022.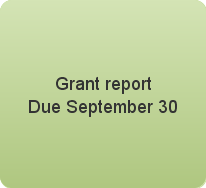 We are changing our timeline and process. Stay tuned.